(2007-2008) Highway 7a Culvert Rehabilitation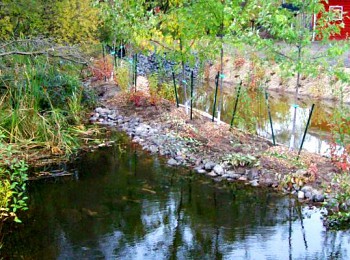 The rehabilitation/reconstruction of the Highway 7A culvert required a provincial highways class environmental assessment (Group C) to be completed. Environmental aspects assessed by EcoTec for this project included fisheries and aquatic habitats, vegetation, resident wildlife, surface drainage, and socio-economic factors. Impacts to the biophysical and socio-economic environment by the undertaking, and mitigation measures to decrease the impacts, were determined. Fisheries habitat enhancements including fish habitat construction drawings, specifications and letter to the DFO for a No HADD was also completed as part of this project. A Public Information Centre was facilitated by EcoTec for this sensitive project.
Following design completion, construction inspection was carried out in order monitor the construction of the fish habitat features.
Highway 7a Culvert Rehabilitation, Bethany, Ontario, MTO Contract 2008-2034 (2007-2008)