About EcoTec Construction Limited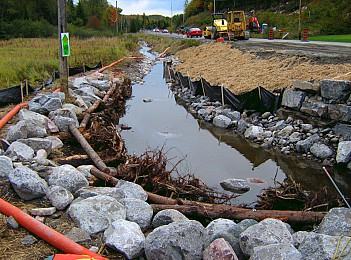 EcoTec Construction Limited was established as a subsidiary of EcoTec Environmental Consultants Inc. in order to provide specialty ecologically-based landscape construction services and environmental inspection/supervision for complex infrastructure construction projects.
Our specialty construction services include:
stream channel construction
fish habitat construction including the installation of rootwad structures,

LUNKERS

, large wood debris structures, hummock structures and spawning shoals
wetland construction
vegetation installation
ditching and drainage
installation of channel grade control features like riffles, rocky ramps, cascades and vortex weirs
boil bioengineering, live crib walls, and rock protection
rock excavation
In addition to extensive construction experience, our staff have training and knowledge in environmental legislation and approval requirements. This allows us to complete projects without costly delays due to environmental non-compliance and to exercise environmental due diligence.
Our specialist staff has completed ecosystem construction projects across Ontario, British Columbia and Quebec. Our clients have included provincial and municipal government agencies, private developers, First Nations, national railways, and private interest groups.